The Pot
SYRIA/2005/Arabic/Color, B&W/Video/12min
Director: Diana El Jeiroudi
until when...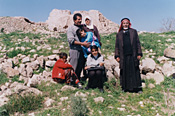 PALESTINE, USA/2004/Arabic/Color, B&W/Video/76min
Director: Dahna Abourahme
The roles and images of mothers and wives desired by Syria's Islamic society are portrayed through four married women. They reveal their feelings and realities challenging society from within in The Pot. Following four Palestinean families living in Dheisheh Refugee Camp, near Bethlehem, the camera looks straight into the now of their day to day lives, full of sorrow as well as happiness in until when….
9.17(Sun) 17:45 @Polepole Higashinakano theater
9.24(Sun) 16:50 @Polepole Higashinakano theater
9.28(Thu) 17:50 @Polepole Higashinakano theater