Hani Textile Arts in Jinping
2005/Hani/Color/Video/29min
Director: He Yuan, Wang Qing
The art of Hani embroidery, traditionally passed down through generations of Hani women, is slowly vanishing. The film documents the process of the textile art, while also featuring the Hani women's thoughts regarding this disappearing art form.
Akha (Hani) New Year: "Gatangpa"
2003/Hani/Color/Video/20min
Directors: Zeng Yiqun, Lu Bing
'Gatangpa' is the name of the Hani tribe's New Year's festival banned during the Cultural Revolution. This animation by Meilan, himself a young Hani man, attempts to recreate the Gatangpa festival while incorporating indigenous knowledge acquired through interviews with the surviving members of the Hani tribe. Through the use of cartoons—a new media—the film attempts to impart the significance of the tribe's lost traditions to the next generation.
Foggy Valley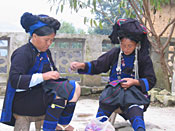 2003/Chinese, Hani/Color/Video/45min
Director: Zhou Yuejun
Recently, a village of the Hani tribe embedded deep within the mountains has seen an upsurge of visitors who come to videotape the area, the villagers doing farm work in traditional ethnic clothing, and the beautiful terraced landscape of rice paddies that surrounds the area. When a television director arrives, the villagers are set on making money out of the ordeal . . .
10.8(Sun) 16:00 @Space NEO