The Son Is Not at Home
2004/Dai/15min
Director: He Yuan
Mr. Xie lives in Dawan, a typical Dai village in province of Dehong that is part of a drug-smuggling route from Myanmar. In spring 2002, the authorities sent his son to a drug rehabilitation center in Chuxiong, leaving Mr. Xie and his wife to care for themselves. Although he battles illness, he has no money for hospital treatment. Meanwhile, harvest season approaches, but the sugar cane and corn crops are left untouched in the fields. This film is a potent commentary on the realities of ethnic minorities in contemporary China.
Gebu Sweet Gebu
2005/Tibetan/Color/Video/60min
Director: Zeng Qingxin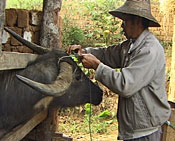 The residents of the Tibetan village of Gebu have made their living handling long-distance transportation of goods, using caravans for both work and living. This film explores the caravan's ages old custom of trade and travel, details the home life of the village, and portrays the hearts of the villagers today.
10.8(Sun) 14:00 @Space NEO